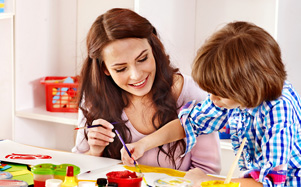 Before choosing a day care center for your child, there are several things that you need to check first to ensure that he or she will be in good hands. With so many day care centers to choose from, how do you know which of them has your child' best interests at heart?
To help you with your search, here are two of the most important factors to consider:
1. Reputation
Initially, parents will turn to their parent-friends to get information about the child care center that their kids go to. Getting firsthand information from a parent is always a good idea. They have the personal experience to back up their opinion—about whether or not the day care center is an excellent choice.
Unless the day care centers you're looking at are receiving rave reviews from parents and trusted individuals, don't stop the search.
We are happy to inform you that here at Preschool Playhouse/Funland, parents are satisfied with the programs that we provide for their pre-k age children.
We have been serving the Rockland and Bergen communities for over 50 years. As soon as you enter our doors, you'll feel the bright and safe environment where your children can flourish. It's a place where kids feel secure, where play is a priority and yet balanced with developing social and school skills.
We are open from 7am thru 6pm – 52 weeks per year. Classes are divided into age groups. All class sizes are small, with each one headed by licensed teachers. Parents are always welcome to visit.
We have daily and weekly fun themes using letters of the week, songs and games. Our motto is "fun is learning."
2. Facilities
What is the facility like at the child care centers that you're looking at? Clean surroundings, as well as age-appropriate educational tools like toys and books should be checked. Look at their furniture and inspect their equipment for safety as well, to ensure that your child will not be harmed in any way while in the care of the child care center.
Preschool Playhouse/Funland boasts of a world-class facility designed to provide your child with a safe and nurturing environment. Our staff has undergone proper training to equip them with the skills and knowledge necessary to assist your child in his or her early developmental stage.
Part of being a well-organized facility is having an established set of ground rules—for parents, children, and our staff. Each of these rules is designed for the benefit of the child. From emergency response to proper conduct and behavior, to operating hours and schedules, all of these were carefully considered to make certain that your child is well taken care of.
With that said, if you've been looking at day care centers for awhile now but still haven't found one that is best for your child, we invite you pay us a visit! Let us show you why we are the best one for your child.