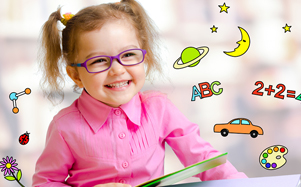 The toddler years, or the years between one and three years, is a crucial stage in a child's life; this is the time when they truly start to develop their cognitive and motor skills. This is why a lot of parents choose to enroll their kids in an infant-to-toddler preschool. And the general sentiment of parents is this: The earlier the kids join toddler classes, the better.
Parents are children's first teachers, and the home, the first (informal) school. In this respect, we work with the parents in their toddler's early childhood development. We continue what they have started at home. While our preschool for toddlers provides a more structured learning environment, teaching is done through fun and exciting activities to make the children more open to learning.
For a 12-month infant or toddler, preschool can be a new adventure that they can look forward to if the facility exudes an air of comfort, joy, and friendliness. This is why we made it a point to create a learning center that will make the kids feel right at home. Our well-trained staff has the experience and expertise to supervise and teach toddlers and preschool age kids.
Toddler Class
Our Toddler Class is a new step for children—a step forward into a larger world beyond home and family.
Here at Pre-School Playhouse/Funland, toddlers will learn to develop independence skills, language and cognitive skills, motor and social skills, as well as undergo toilet training. Toddlers are encouraged to learn, grow and discover at their own pace. We want the children to feel comfortable learning at their own speed. We do not want them to feel pressured to learn at the same pace as everybody else. First and foremost, they will be having fun in a safe and caring environment.
Secondly, they will be in the company of kids their same age, which encourages socialization. When you enroll your child in a class at an infant-to-toddler preschool, they will learn how to communicate with children outside of their family circle. The kids will also learn how to follow instructions from adults other than their guardian, parents, and relatives. Of course, parents are always welcome to visit.
If you would like to inquire about the Toddler Class, or you wish to learn more about our preschool for toddlers, we invite you to contact us at your convenience. You may reach us at 845-359-4562. Or you may leave a message on our contact us page. For assistance in choosing a program for your child, please click here.