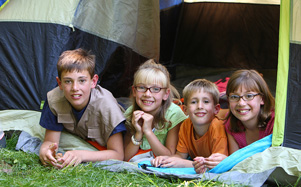 Summer camp for kids are ideal for parents who want to make their children more independent—or at least learn how to do small things on their own. Kids' summer camps also serve as a good venue for children to learn more about friendships, teamwork, and the importance of following rules. If you're looking for summer camps for kids, specifically, junior summer camps that are ideal for children between the ages of 2 and 9 years old, then you've come to the right place! Pre-School Playhouse Funland is an early childhood learning center in Rockland County, NY. We offer toddler to kindergarten programs, and in the summers, we hold summer camps for children.
Recreational Activities for Fun and Learning
Here at Pre-School Funland, we put high value on education. We believe that starting kids young is one of the most effective ways to teach them about the importance of structured learning. And it is precisely for this reason that we put a lot of effort into developing our programs, including programs for our summer camp for kids.
Understandably, kids may not be interested in going to summer camp at first. Since it is summer, they may not be sold out on the idea of going to yet another "school." After all, summer should be fun! And it should be a time when the kids can do anything they want—or at least without the supervision of teachers. But once they learn about the activities we have lined up for them, they'll definitely wouldn't think twice about joining us and other children of their age on our yearly summer camps for kids!
For more information about our kids' summer camps, please read on.
Summer day camp for kids 2-9 years old. 10 full weeks of camp offered this summer. Extended day available. Door-to-door air-conditioned transportation included!
Call 845-359-4562 To Register.
Our Rockland County summer camp focuses on young children 2-9 years of age. Our facility, program and staff support a safe and fun-filled summer camp experience.
We offer a wide variety of activities geared to each age group. Of these, the following are included:
Swimming in our specially designed pool
Sports
Art and Crafts
Themed daily events
Music
Trips and Shows
Excellent rainy day program
Olympics, Field Day, and Carnival
Activities, except for outdoor activities, will be held inside an air-conditioned building for the children's comfort. All groups are headed by experienced teachers.
Flexible schedules:
2-5 days per week
4-10 weeks of camp
Weeks need not be consecutive
Half, full or extended day programs
Door-to-door, air-conditioned transportation
Do you live in or within the vicinity of Rockland County? Then we invite you to come visit us in person so you can have a better look at our facility, as well as meet our teachers and staff. You may also be invited to have a quick look at some of our classes so you'll have a more solid picture of how we nurture the growth of young minds at Pre-School Funland.
For questions or inquiries regarding our kids' summer camp, please do not hesitate to give us a call at 845-359-4562. You may also contact us through this number to set an appointment. Otherwise, please send us a message at info@preschoolfunland.com. We look forward to having your child join us at our summer camp for kids!