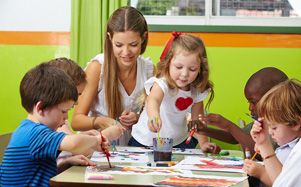 Kindergarten is your child's first step to formal education because this is more structured than pre-K programs, which is why most parents prefer to enroll their kids in a private school for kindergarten. Where pre-K introduces kids to learning outside the home, and engaging in activities with other children, kindergarten introduces more of the educational structure that kids can expect throughout their schooling years.
Children are normally playful and curious, and they have short attention spans. Private kindergarten programs at Preschool Playhouse/Funland were developed with these in mind. We understand that children need to be exposed to a fun, yet mentally stimulating environment in order to keep their attention. While the educational structure is more formal in nature, following the concept of "big schools," the programs are not rigid in the sense that they do not take away the fun in learning. On the contrary, we believe that fun should always be a part of learning. When children are having fun while learning at a private school for kindergarten like ours, they tend to retain what they learned.
Individualized Attention
Because a class at a private school is relatively smaller than one at a public school, teachers are able to provide children with the individualized and personal attention that they need. Children learn at a different pace, and some kids require more attention than others in order to grasp the lessons being taught. Preschool Playhouse/Funland wants to make sure that no child is left behind when it comes to learning. Our teachers are trained to help children learn and develop at a comfortable pace, while making sure that they are able to catch-up with the lessons and the rest of the class.
Nurturing Environment
In conjunction with the individualized attention that your child can get from private schools for kindergarten to help them with their mental and emotional development, a nurturing environment is also a requirement for an ideal kindergarten school.
A nurturing environment does not only mean an organized and well-maintained facility, but more importantly, it means that the children are surrounded by teachers and adults who support them. When a child goes through a traumatic experience in school at a very young age, it could affect them throughout the rest of their school years. This is why it is very important for us that your child be given the proper care and attention that he or she needs, in a loving and compassionate way. Our teachers and staff are properly trained to take care of your child's early development in a way that encourages his or her individual growth.
To reiterate, here are the benefits of enrolling your child at our private school for kindergarten:
Small Class Size
Developmentally Appropriate Curriculum
Loving Experienced Teachers
First-grade success often depends on a great kindergarten experience.
Is a private kindergarten worth it? YES! For the following reasons:
Hand-picked, dynamic, and experienced teachers
Small class size
Interactive hands-on private kindergarten programs in reading, math, science, social studies, art and music
Small and Large Motor Skill Training
Development-enriched Curriculum
Flexible Hours to Meet Modern Family Needs
Note: December 1st children who miss the cut-off date are eligible for first grade admission. Special focus on personal and social development for a self-confident child.
If you have questions or wish to schedule a visit, please feel free to contact us at your convenience. You may reach us 845-359-4562.